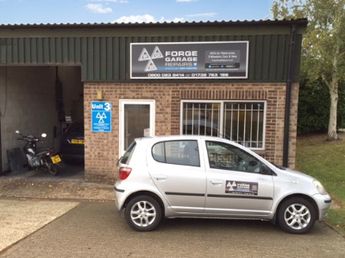 Your Specialist MOT Test Centre in the Sevenoaks Area
Why choose us? We're exclusively MOTs.

Forge Garage Repairs Ltd has over 25 years' experience in the MOT business, providing unbiased MOT testing, with a professional yet friendly service. We have first class modern facilities, including a comfortable waiting area.
Try our while-you-wait speedy service by making an appointment today.

Call your friendly local MOT test centre free on 0800 023 8414 or 01732 763 186 or visit us at Unit 3, Chaucer Industrial Park, Watery Lane, Kemsing, TN15 6PL. Click here to find us.
Does your Motorcycle Need an MOT?
In addition to the honest and reliable service we offer, we can provide your motorcycle with a professional MOT. We cater to all engines and models, and we can help you with our free advice. From powerful engines to economical mopeds, we can MOT any motorcycle you present us with. Please call us free today for more information, and our team of staff will be delighted to advise you.
MOTs from our Sevenoaks Garage
Remember that Forge Garage Repairs Ltd is completely unbiased, and our fully trained mechanics ensure the highest standards are guaranteed. We cater for all makes and models including diesel, petrol, and hybrid engines. We offer free retests to all our customers to ensure that our customers are completely satisfied. Email, call, or find us on Facebook today to have your questions answered.
Not Sure When Your MOT and Tax Are Due?
Call us today FREE on 0800 023 8414 or 01732 763 186 with your vehicle Registration Number.
Or Click here to visit the DVLA Website.
MOT WHILE-YOU-WAIT Speedy Service
Should you choose to come in person, you can experience our service for yourself including all the latest facilities and our comfortable waiting area.
MOT BY APPOINTMENT
To book an appointment call free on 0800 023 8414 or 01732 763 186.
Our opening hours are Monday to Friday 0800 – 1800 and Saturday's 0800 - 1300.
NEED AN MOT IN A HURRY?
If your MOT is about to expire just pop in to our Test Centre. We do our utmost to accommodate visitors whether we know you or not. Click here to find us.

If your MOT has expired please call 0800 023 8414 or 01732 763 186 first and book your MOT otherwise you will be driving your vehicle illegally and could be prosecuted.